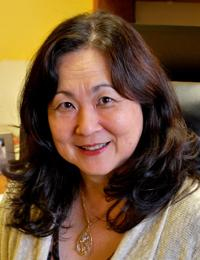 Noreen Yamane will be the permanent chancellor of Hawaii Community College, effective July 1st, 2011.
Last week, the University of Hawaii Board of Regents approved the appointment of Yamane, who had been serving as interim chancellor of Hawaii CC since July 2010.
"With her deep commitment to Hawai'i Community College and to the Big Island community, Noreen Yamane is an ideal leader to help further the higher education opportunities for East and West Hawai'i," said John Morton, UH vice president for community colleges, in a news release. "Hawai'i Community College has been our fastest growing community college. Noreen has been a big part of that growth, and I look forward to working with her as part of the UH Community Colleges team."
FILE VIDEO – Yamane speaks at West Hawaii campus road dedication
March 19, 2011 – University of Hawaii Systems officials, state and local leaders, and supportive members of the community gathered to bless the rocky location that will one day (in two years, planners hope) be home to the Hawaii Community College – Pālamanui campus.
Yamane's background was further detailed in a news release:
She served the previous year as interim vice chancellor for academic affairs where she chaired the College Effectiveness Review Committee, overseeing the integration of comprehensive program reviews, budget development, strategic planning and assessment. Yamane was formerly the dean of instruction/assistant to the vice chancellor for academic affairs where she led the update and revision of Hawai'i CC's Strategic Plan.

Since first joining the college as a lecturer in mathematics in 1980, she has served as equal employment opportunity/affirmative action officer, division chair for mathematics and natural sciences and liberal arts unit chair. Yamane has also coordinated the college's summer session program since 2004.

She has received many awards recognizing her leadership and commitment in higher education, including the National Education Association Chair's Academy International Exemplary Leadership Award, 'A'ali'i Chancellor's Service Award (from Hawai'i CC) and the University of Hawai'i's Regents' Medal for Excellence in Teaching.

Yamane attended the University of Hawai'i at Hilo and completed her BEd at the University of Hawai'i at Mānoa, returning for her MEd after teaching in state Department of Education intermediate schools and adult continuing education programs.