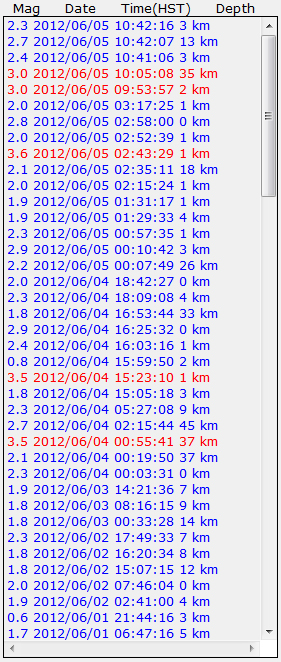 HAWAII VOLCANOES NATIONAL PARK, Hawaii: A large number of earthquakes has been rattling the Volcano area on Hawaii Island over the last few days. The quakes have been small, with no damage reported. Still, a handful of those temblors have been 3.0 magnitude and over.
The USGS Hawaiian Volcano Observatory's "Recent Earthquakes in Hawaii" page shows a constant swarm of quakes surrounding the Hawaii Volcanoes National Park, home of the active Kilauea Volcano. We took a screen grab of the screen of the USGS HVO earthquake page, and it shows the long list stretching all the way back to Friday, June 1st.
16 earthquakes have already registered on the list before noon on Tuesday, Hawaii time.
On Tuesday, the HVO staff makes mention of the quakes on their Kilauea volcano update page:
The GPS network recorded weak extension overall for the past few months with superimposed contraction and extension fluctuations corresponding to DI tilt events. Seismic tremor levels were generally low, decreasing from a peak around 11 am Sunday. A whopping thirty-three earthquakes were strong enough to be located beneath Kilauea volcano: 4 deep earthquakes below the southwest rift zone, 3 beneath the west edge of the summit area, 7 within and below the upper east rift, 1 north of the middle east rift zone, 7 on south flank faults, and 11 mostly shallow long-period (LP) earthquakes within the Koa`e Fault Zone beneath the Kulanaokuaiki Camp Ground; a quick check this morning showed no obvious new cracking on the surface near the campground.
The rise of the Kilauea summit lava lake level in Halemaumau crater continued with several overflows of the inner ledge. At Pu`u `O`o, scientists report lava also rose within the east collapse pit; to the southeast, lava flows continued to advance on the coastal plain.