(BIVN) – Another wastewater discharge is being reported below Big Island Dairy in Ōʻōkala, as state health officials are warning the public to stay out of Kaohaoha Gulch and the coastal waters fronting the area.
The Big Island Dairy operation has struggled to prevent continual wastewater discharges at the facility. The Hawaiʻi Center For Food Safety and community group Kupale Oʻokala filed a lawsuit against the dairy in federal court in 2017, alleging violations of the Clean Water Act.
In November of this year, the dairy announced it planned to discontinue its operation of raw milk production and milk processing operations, saying it "lacks the additional resources needed to continue the operation under current economic and regulatory conditions." However, dairy attorney David Claiborne said "the process of winding up business operations will take several months to complete, during which time milk processing will end and cows will be removed from active milking."
Charlie Tebbutt, the attorney representing the groups opposing the dairy operation, wants to see a plan. "The dairy needs a closure plan that will guarantee that it ceases its multi-year illegal pollution, now and into the future," Tebbutt said last month.
Here is the Hawaiʻi Health Department notice issued on Monday, December 24: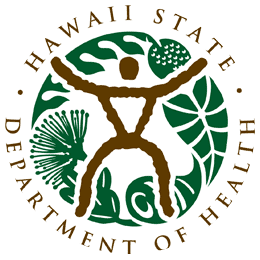 Hawaiʻi Department of Health
on December 24, 2018
The Hawai'i Department of Health (DOH) is advising the public stay out of the waters in Kaohaoha Gulch and the coastal waters fronting the gulch in Ookala, Hawai'i. Water within Kaohaoha Gulch was contaminated with animal waste due to an overflowing retention pond at the dairy facility caused by heavy rainfall.
Signs have been posted. The public is advised to remain out of these waters until this advisory has been taken down.
Heavy rain has also resulted in stormwater runoff entering into coastal waters. The public is advised to stay out of flood waters and storm water runoff due to possible overflowing cesspools, sewer, manholes, pesticides, animal fecal matter, dead animals, pathogens, chemicals, and associated flood debris. Not all coastal areas may be impacted by runoff, however, if the water is brown stay out. Continue to practice good personal hygiene and follow-up with your primary care physician if you have any health concerns.
UPDATE: According to the Hawaiʻi Health Department, the owners of Big Island Dairy reported the discharge at 9:10 a.m. today, and estimated approximately 800,000 gallons of wastewater is expected to be discharged during pumping activities throughout the day. "The lagoon is being pumped down to maintain the structural integrity of the lagoon and prevent an uncontrolled discharge into Alaialoa Gulch, which runs through 'Ō'ōkala Town," health officials said.
Health officials say the dairy is required to submit a written report documenting the cause of the spill. The health department's Clean Water Branch will continue to oversee the situation and investigate the wastewater spill as the discharge of animal waste to State waters is strictly prohibited, the health department says.