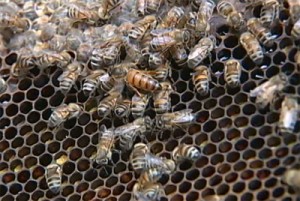 By Stephanie Salazar

The Big Island Beekeepers Association is conducting a survey of
commercial and hobby beekeepers to document how many healthy colonies remain, and to get a record of how many have been lost in the past year. 
The three big problems for the island's bees: varroa mite, a small hive beetle that invades and depletes the hive and "undetected  Nosema epidemic"
BI Beekeepers Association president Cary Dizon said in a release that the 12-question survey, which is available online (http://www.zoomerang.com/) will not reveal the identity of the beekeepers, but asks for location by district, cause of bee loss, the type of treatments used and number of colonies.
Info gathered in January will be posted to the BIBA web site in February. The goal is to get help for the dwindling bees, which are vital for pollinating many of Hawaii's crops, such as macadamia nuts.
The Big Island Beekeepers Association circulated the following message to the media this week:
JAN. 3, 2011 — An island-wide survey of beekeepers is being conducted throughout January by the Big Island Beekeepers Association (BIBA) in conjunction with the Honey Bee Education Project. Unofficial accounts indicate hundreds, if not thousands, of bee colonys have died on the Big Isle during 2010, according to Cary Dizon, BIBA president.

"Hawaii beekeeping has suffered a 1, 2, 3 punch in the last three years, with Varroa mites arriving in 2008, bringing with them an undetected Nosema epidemic, and culminating in a Small Hive Beetle infestation that swept the island in just 3 months," Dizon said.

BIBA has undertaken the survey of both commercial and hobbyist beekeepers to document how many healthy, managed colonies remain as well as to get a record of how many colonies have been lost in the past year. Reports of feral honey bee colony losses is also needed, Dizon said.

"We plan to use this information to bring public attention to the present crisis and hopefully get support for supplies and equipment needed to replace lost colonies and meet the needs of pollinator-dependent agriculture on our island."

The 12-question survey asks for the location of the colonies by district as well as the cause of loss of bee colonies and treatments used for pest control in order to "ensure the data we gather is a complete and true picture of beekeeping on Hawaii Island" at this point in time, Dizon said, adding BIBA will make the statistical information available publicly in February.

"No data will be released that identifies individual beekeepers," she stated.

BIBA is working to bring apicultural specialists to the Big Island to help local beekeepers and their bees survive the recent wave of invasive pests as well as to learn new techniques for increasing the number of managed colonies on the island. The state agriculture department forbids the importation of bees to Hawaii and there is a ban on transporting bees between islands. The loss of so many colonies on the island has created a shortage that must be addressed locally, according to Dizon.

The questionnaire is available online at: http://www.zoomerang.com/Survey/WEB22BPB4DKNLE/

Beekeepers who are not online and want a copy of the survey are asked to contact Jenny Bach at 640-0278 or Frankie Stapleton at 965-8945, or write to Cary Dizon, BIBA President, P.O. Box 603, Kurtistown, HI 96760. Completed copies of the survey should be mailed to Dizon by Jan. 24, either online or by USPS to the above-mentioned address.

BIBA is also seeking reports of feral honey bee colonies as well as general information on the state of beekeeping on the Big Island and/or the BIBA questionnaire. Feral honey bees have suffered as much as managed bees from the epidemic of disease and pests. Reporting them will enable local beekeepers to rescue and treat them, according to the BIBA president.

Dizon asks that all comments be emailed to biba@bibahawaiibees.org.

This fall, BIBA will host the international Western Apicultural Society annual convention in Waikoloa. Anyone interested in beekeeping, either as a business or hobbyist, is invited to join the Big Island Beekeepers Association. Meetings are held quarterly at the Komohana Agricultural Extension Service building in Hilo. Call 966-7421 for more information or visit www.bibahawaiibees.org online.