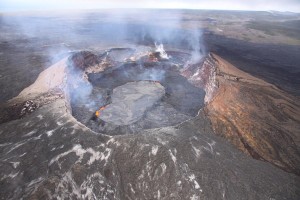 Video courtesy USGS Hawaiian Volcano Observatory
The bulging Pu`u `Ō `ō crater on the east rift zone of Hawaii's Kilauea volcano is putting on a show, and there is no telling what could be next.
This USGS Hawaiian Volcano Observatory video shows a timelapse sequence taken from a thermal camera on the rim of Pu`u `Ō `ō crater.
The movie spans from May 26 to today and shows the rising level of the lava lake in the crater.
Things appear to be going slow in the first part of the movie, which shows the eruption during the month of June. You can see the level of the lava lake rises primarily due to overflows building the steep levee walls higher.
Scientists say sources within Pu`u `O`o crater are feeding that lava lake.
But its in the last portion of the movie where things get really interesting. From about July 1 to today, geologists say much of the rise of the lava lake has been due to uplift of the crater floor, carrying the lava lake upward. This uplift has been especially pronounced over the past few days, shown by the final few moments of the movie.
From the USGS Kilauea Status report (July 11th):
The GPS network around Pu`u `O`o recorded long-term extension since mid-April with accelerating extension across the crater since July 3, the day that visible uplift of the lava lake started; GPS receivers on the cone's flank do not show this acceleration suggesting it is due to a shallow pressure source beneath the crater floor. The tiltmeter on the north flank of Pu`u `O`o Cone recorded a small amount of inflation between 6 pm and midnight last night. Seismic tremor levels were low. The most recent (preliminary) sulfur dioxide emission rate measurement was 700 tonnes/day on July 5, 2011, from all east rift zone sources.
What happens next is anyone's guess… but it is important to note that ground access to this hazardous area is restricted by Hawai`i Volcanoes National Park and the Kahauale`a Natural Area Reserve managers; weather permitting, views into the crater can be obtained by air tours.