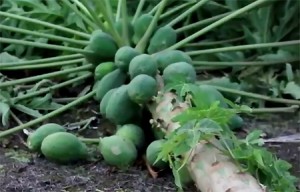 Video by Baron Sekiya, Hawaii247.com | Voice of Stephanie Salazar
One year after thousands of papaya trees were hacked down in Puna, another act of vandalism has occurred to the same crop in the same area.
Hawaii County Police are reporting that 10 acres of papaya trees have been destroyed in three adjoining papaya fields on Alohalani in the Kapoho area. This is the same area where – one year ago – 8,500 papaya trees were destroyed.
Police say each property belongs to a separate owner. Additional adjoining papaya fields were left undamaged.
Hawaii24/7's Baron Sekiya was there to film the damage, and interviewed farmer Lanie Barao about the shocking act.
Police say sometime between Monday morning and Tuesday morning, the trees were cut, apparently with a machete. It was believed that a machete was used in last year's vandalism as well.
Puna farmer Laureto Julian believed then that it was the work of fellow papaya farmers. In this interview with Big Island Video News filmed in July 2010, Julian discounted the idea that the attackers may have been targeting his crops because they are GMO, or genetically modified, to be more virus resistant and commercially viable.
However, the theory that the vandalism was an anti-GMO act in now being considered by other local farmers, who gathered Tuesday night in Pahoa.
County representatives like Margarita Hopkins with Hawaii County Research & Development and Police Detective Brandon Konanui were also present at the meeting.
Some also wondered if it could be hunters, retaliating against accusations of tresspass.
The farmers thought the best idea would be to hui together and offer a reward for information.
Detectives from the Area I Criminal Investigation are continuing the investigation. The value of the damaged property is still under investigation.
Police ask that anyone with information about this case call Acting Lieutenant Reed Mahuna at 961-2252. Tipsters who prefer to remain anonymous may call Crime Stoppers at 961-8300 in Hilo or 329-8181 in Kona and may be eligible for a reward of up to $1,000. Crime Stoppers is a volunteer program run by ordinary citizens who want to keep their community safe. Crime Stoppers doesn't record calls or subscribe to caller ID. All Crime Stoppers information is kept confidential.