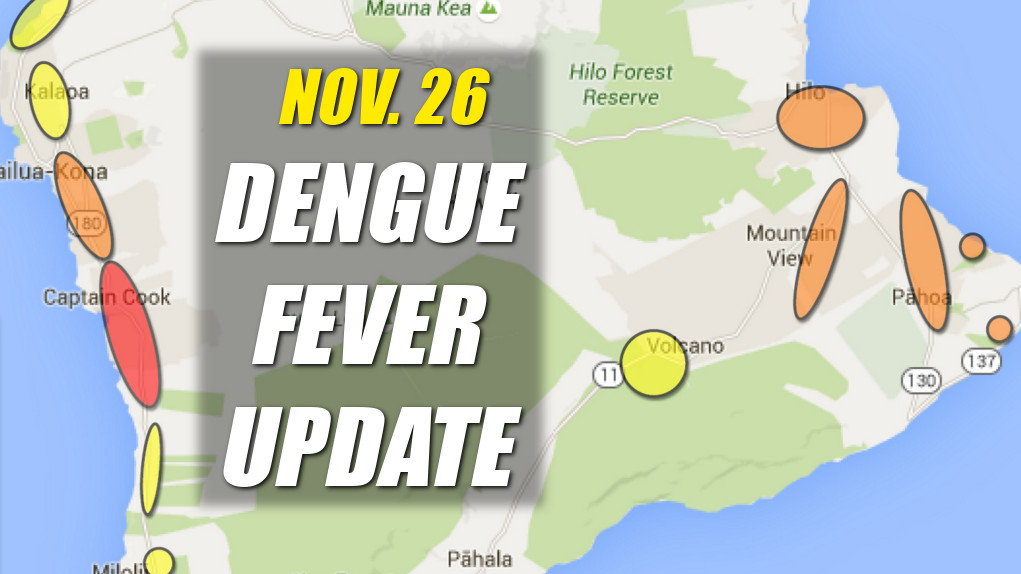 HAWAII ISLAND – The number of confirmed cases of dengue fever on Hawaii Island has risen to 107. The Hawaii Department of Health updated the numbers of the locally-acquired mosquito-borne illness on Thanksgiving Day, saying 93 of the cases are Hawaii residents and 14 are visitors. 83 cases have been adults; twenty-four have been children under the age of 18. The onset of the illness has ranged between 9/11/15 to 11/18/15.
As of today, the state says a total of 230 reported potential cases have been excluded based on test results and/or not meeting case criteria.
The Department of Health plans to conduct spraying in various areas of South Kona, Hilo, Puna, and Ka'u tomorrow, according to the Hawaii County Civil Defense.
---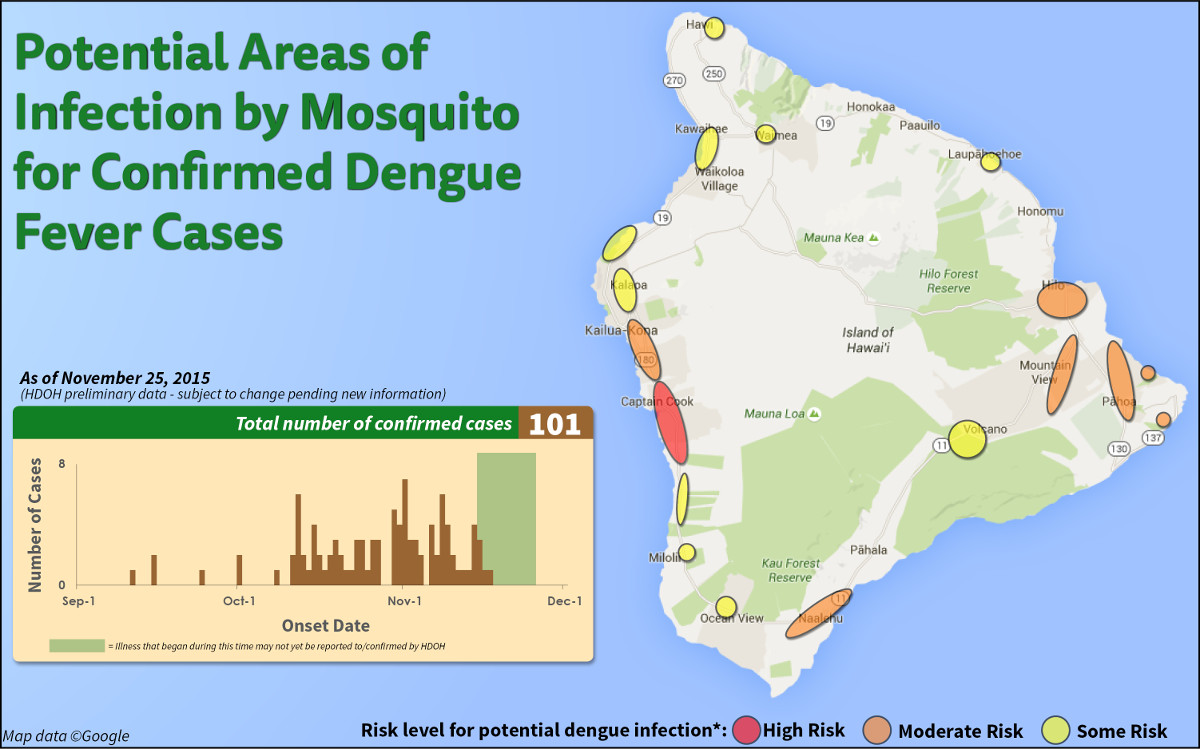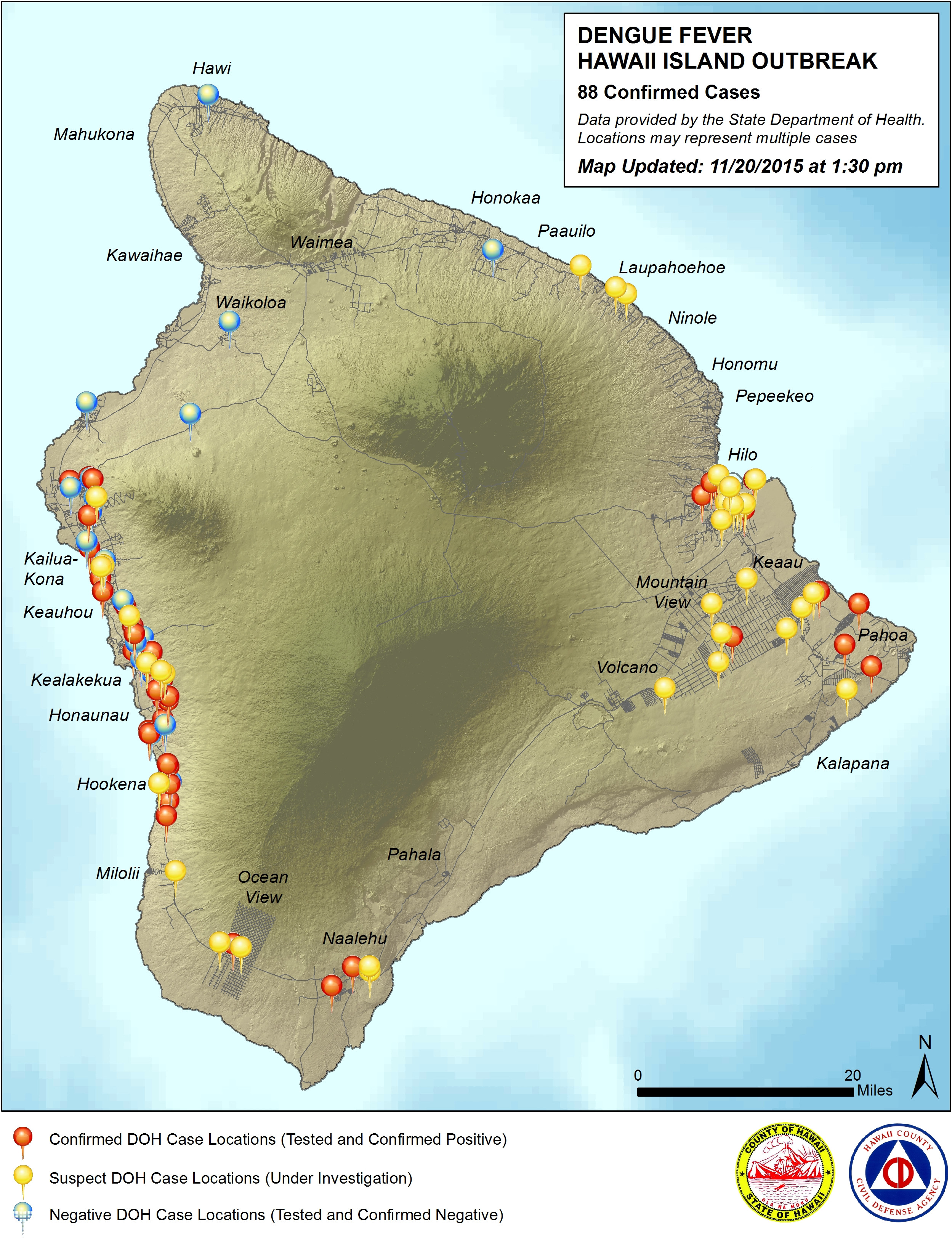 ---

Dengue Fever information update

This is a Dengue Fever information update for Thursday November 26th at 9:45AM.

The State Department of Health continues to work with other state and county agencies on the issue of the Dengue Fever outbreak. As of 1:00 yesterday the Department of Health had reported 101 confirmed cases originating on Hawaii Island. These cases include 88 residents and 13 visitors.

Dengue fever is a virus that is transmitted or spread by infected mosquitoes and not directly from person to person. Dengue Fever is not endemic or common to Hawaii. It was likely introduced by a person who contracted the virus in another area of the world and became infectious while in Hawaii.

Because dengue fever is only transmitted by mosquitoes, the Department of Health is spraying and treating areas with high mosquito presence and confirmed cases. The Department of Health plans to conduct spraying in various areas of South Kona, Hilo, Puna, and Kau tomorrow.

Although spraying and treatment of areas is ongoing, the most effective method to reduce the spread and eliminate Dengue is to fight the bite. Minimize or prevent the possibility of being bitten by an infected mosquito by wearing clothing that minimizes exposed skin, use mosquito repellant and avoid activities in areas of high mosquito concentration during the early morning and late afternoon periods when mosquito activity is greatest.

In addition, persons feeling ill and having a fever should remain indoors to prevent the possibility of being bitten and infecting mosquitoes.

Community Information Meetings on the Dengue outbreak will be conducted at the following locations:

• Tomorrow Friday November 27th at 6:00PM at the Ocean View Community Center
• Monday November 30th at 6:00PM at the Waimea Middle School Cafeteria
• Tuesday December 1st at 6:30PM at the Kohala High School Cafeteria
• Thursday December 3rd at 6:30 at the Pahoa High School Cafeteria

The community is encouraged to attend these meetings to receive information on the ongoing outbreak.

For additional information on Dengue Fever and preventing the spread of Dengue Fever, go to health.hawaii.gov or call the Department of Health at 974-6001., Everyone's help and assistance with this outbreak is much needed and appreciated.

Have a safe and Happy Thanksgiving.

This is your Hawaii County Civil Defense