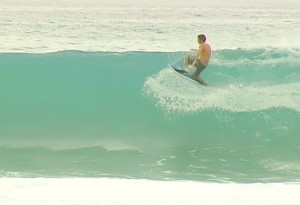 Video by David Corrigan & Visionary Video | Voice of Stephanie Salazar
The Martin Luther King, Jr. holiday coincided with a huge ocean swell that shut down beaches on the west side of the island.
The National Weather Service predicted the incoming swell would produce much larger waves than normal, thanks to a strong westerly component.
On Sunday, several beaches were closed, like here at La'aloa – or Magic Sands – where pounding 7 foot (Hawaiian) waves churned up the shoreline. 
A crowd of onlookers gathered on Alii Drive to watch the action, even though there were no surfers on the water. That's probably because they were all up the road at Lymans or Banyans, where professionals are never afraid to test the waves on a day like this.
The Hawaii County Civil Defense said wave heights would be in the 12 to 22 foot range starting Sunday evening, and on Monday, the waves kept on crashing.
Here at the end of Alii Drive, at the place known as "End of the World" waves smashed against the shore, sending the salty splash 40 feet in the air. This impressive footage was shot by Visionary Video.
Also, up the road at Mile Marker 2, the ocean's violence targets "Magic Pool" .. a popular spot for locals to go to get wet when the beaches are closed and waves are high.
The islands will get a bit of a break for the next few days, but the National Weather Service says another very large west-northwest swell will arrive Wednesday night and will again produce surf above warning levels on north and west facing shores. This next high surf warning episode will be longer lived than most, according to weather experts, persisting from Wednesday night through Friday and possibly into Saturday.