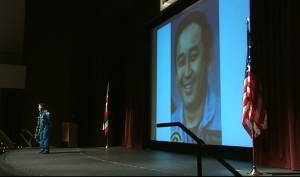 Video by David Corrigan | Voice of Stephanie Salazar
The University of Hawaii – Hilo Theatre was filled to capacity for the 2011 Astronaut Ellison Onizuka Science Day on Saturday.
The event was one of many in Hawaii and around the country honoring the memory of Ellison Onizuka, born and raised in Kealakekua, who grew up to become NASA's first Japanese-American astronaut. He logged 74 hours in space during a flight in 1985, but lost his life in the tragic Challenger Space Shuttle explosion in January 28th, 1986 – 25 years ago.
This is always a busy time of the year for the Onizuka family, who were present at the event.
"Our family has moved on," said Claude Onizuka, "as they say, in time everything heals but the hurt is still there. We try to keep Ellison's legacy alive."
Astronaut Daniel Tani, who was inspired by Onizuka's achievements, was the special guest speaker for the event.
The activities continued all day, with interactive science displays and demonstrations.
UHH, American Savings Bank, the Onizuka family, the Onizuka Memorial Committee, the Hawaii Department of Education and others sponsored the event, which was open to Big Island students in grades 4 through 12, parents, and teachers.
Numerous local dignataries were also in attendance.