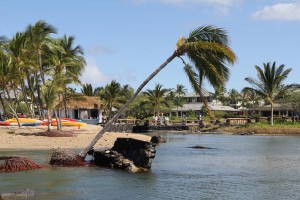 Photos courtesy Tim Bryan, Voice of Stephanie Salazar
Anaehoomalu Bay in the Waikoloa Beach Resort took a pounding from the tsunami a few weeks ago.
The surge cleaved the beach in half, and waves breached the lava rock walls at Kings' Pond. The public beach access and parking lot at the south end were closed as a result.
These photos show how the face of the popular Waikoloa area beach has been changed by the event.
For fans and participants in this weekend's Lavaman Waikoloa Triathlon, no need to worry. The bay is open and the athletes will have full use of the usual race course. Also, the 10th annual Lavakids Aquathon taking place on Saturday is still on for 9:00 a.m., according to the Lavaman website.