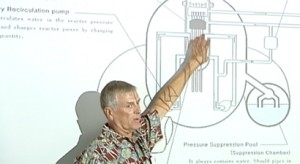 Video by David Corrigan | Voice of Stephanie Salazar
It was a timely talk at NELHA in Kona, when an expert in nuclear energy discussed what appears to be going on at the ailing Fukushima Daiishi nuclear plant in Japan.
John Deveau, a Navy veteran who worked for decades in the nuclear energy industry, is well versed in emergency operating procedures, and last Saturday he shed some light on the desperate efforts to prevent a meltdown in Japan.
Deveau explained what he knew – by the book – but reminded the audience that all the details are not known. He said operators probably had little choice but to vent radioactivity in light of the dire situation.
He also assured those in attendance that the radiation that has escaped is not a threat to Hawaii residents.
VIDEO: Part one
VIDEO: Part two