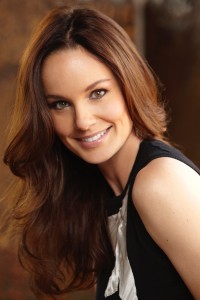 Media release | Big Island Film Festival
KOHALA COAST, HAWAII — Hawaii stars come out to play at the 6th Annual Big Island Film Festival (BIFF), including celebrity honorees Sarah Wayne Callies (The Walking Dead – photo to the right), and Kristina Anapau (Black Swan). These women will help celebrate independent narrative filmmaking at the May 11-15 event at The Fairmont Orchid, Hawai'i and The Shops at Mauna Lani.
Sarah Wayne Callies grew up in Honolulu, where her parents are professors at University of Hawai'i, Mānoa. She currently stars as "Lori Grimes" on AMC's The Walking Dead, based on the popular comic book of the same name. Past television credits include her role as "Dr. Sara Tancredi" on Fox's popular Prison Break, as well as appearances on Queens Supreme, Tarzan, House, NUMB3RS, Law and Order: SVU and many more. Her screenplay Elena's Serenade, an adaptation of the children's book by Campbell Geeslin, has been optioned by The Film Farm.
From Hilo, Kristina Anapau grew up studying classical ballet, began her professional acting career on TV at age 16, and last year starred opposite Oscar-winning Natalie Portman in Black Swan. Television credits include House, Monk, CSI: NY, Without A Trace, General Hospital, and Knight Rider. In 2006 Anapau appeared in Self Medicated, winner of over 35 International film awards, including BIFF's Best Feature, and today she stars in a new short drama Verdict screening Wednesday, May 11 at BIFF.
More special guests include previous BIFF Golden Honu Award winners David Winning (Todd & the Book of Pure Evil) and Ron Osborn (Duckman), along with producer Naketha Mattocks, and, from Hawaii Five-0, Cary Hiroyuki Tagawa, and producers Angela Laprete and William "Chico" Powell. Laprete and Powell will appear at a live "insider" Q&A with Big Island Film Commissioner John Mason at The Shops at Mauna Lani, Thursday, May 12, 6:00-7:00 p.m.
A true professional, producer Angela Laprete has worked on Emmy award-winning television shows and independent films and major blockbusters including ER, Blue Crush, Godzilla, Indiana Jones and the Kingdom of the Crystal Skull, The Tempest and the Hawaii/U.K. co-produced independent feature film, Princess Kaiulani. She is currently Production Supervisor on the #1 new TV show remake of Hawaii Five-0.
With partner William "Chico" Powell, their company cre808films produced One Kine Day and Lychee Thieves, circulating the film festival market right now, and are in development with The Tattoo, based on the award-winning book by Chris McKinney. Powell has been production accountant for many projects over the last 10 years including Hawaii Five-0, Lost and The Tempest. He was recently Production Supervisor on Soul Surfer and was the Line Producer on Princess Kaiulani.
BIFF 2011 will showcase 63 independent narrative films from 7 countries, 10 of them filmed in Hawaii, including:
–All Collected Things, looking back at a love story. Michael Tanji producer, director, writer.
–Layover, on the Shore, a contemporary Honolulu filmmaker's edgy story, A Christopher Makoto Yogi Film, Producers William Kwok, Yu Gu.
–Mute, a deaf high school junior wants to try out for football, by Jeremy Johnson Films.
–The Green Tie Affair, a puppet musical about identity and wardrobe
And these, from Big Island filmmakers:
–Hawaii's Undersea Ohana, Hawaiian proverbs put to music, includes a segment filmed on Ni'ihau, by Fasano Underwater Productions, Charles Fasano.
–Alison's Adventures: Snaked, a surf adventure to Morocco, Alison Tea Productions.
–Sproot, Produced and directed by Loring Robbins, is a whimsical animation about telekinetic power and personal strength
–The Pick-Up Artist, two people meet in a bar, but are they who they seem to be? Beckwood Entertainment, producer/director/writer: Rockwood.
–Waterfall, loss and grief, embraced by nature. Keyland Productions, Braide Keyland producer, director and writer.
From Maui, Get a Job written and directed by Brian Kohne, is an outrageous comedy with an all-star lineup of top Hawaii entertainers including Willie K, Eric Gilliom, Augie T, Jake Shimabukuro, Carolyn Omine, Slam Poet Kealoha, Ernie Cruz, Jr., Amy Hanaiali'i, Mick Fleetwood, Pat Simmons, Charles Ka'upu, Willie Nelson, and Henry Kapono (who headlines BIFF's "Best of the Fest" concert May 15). Get a Job screens Thursday, May 12 at The Fairmont Orchid, Hawai'i Plantation Estate, in the set beginning at 7:30 p.m. (free parking).
Complete schedule and individual event tickets available online. www.BigIslandFilmFestival.com
BIFF 2011 Highlights
Wednesday, May 11, 7:30 p.m.
-Free Grand Opening at The Shops at Mauna Lani, to welcome the filmmakers and celebrities, and enjoy short films, including The Verdict, starring Hilo's Kristina Anapau ("Black Swan")
Thursday, May 12, 6:00-7:00 p.m.
-"Insider" Q&A with Angela Laprete and William "Chico" Powell of cre808film, The Shops at Mauna Lani Center Stage
Thursday-Friday-Saturday, May 12-13-14
-Daytime movies at The Fairmont Orchid, Hawaii Amphitheatre (times vary, parking validated).
-Free Family Films at The Shops at Mauna Lani Center Stage, 7:30-9:30 p.m.
-Nightly double-feature (up to R) at The Fairmont Orchid, Hawai'i Plantation Estate, 7:30-11:30 p.m. (free parking)
Saturday, May 14
-Filmmaker Workshops: "Inside Pitch: How to pitch effectively in an evolving marketplace" by Naketha Mattocks (9:00-11:30 a.m.) and "It's Alive: Breathing Life into Your Characters" by Ron Osborn (12:30-3:00 p.m.)
Sunday, May 15, 5:30 p.m.
-"Best of the Fest" – Henry Kapono in concert and audience-voted Best Feature and Best Short of BIFF 2011, at The Fairmont Orchid, Hawai'i Plantation Estate. (There will be a Silent Auction on site during the concert, to benefit The Wounded Warrior Project for U.S. veterans.) Free parking.
Lawn seating for outdoor shows, beach chairs welcome, no coolers please. For complete schedule information, and to purchase tickets online, visit www.BigIslandFilmFestival.com.