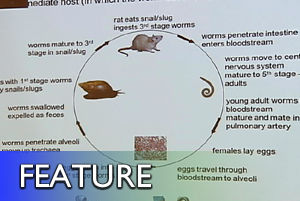 By David Corrigan and Stephanie Salazar
[Video by David Corrigan]
HILO, Hawaii: On Wednesday, the University of Hawaii at Hilo College of Pharmacy hosted a free public forum on a sometimes debilitating disease known to the rainy areas of Puna makai in greater numbers than the rest of Hawaii.
In a program entitled "Rat Lungworm Disease: What DO We Know?" … a panel of experts in scientific research, medicine, public health and agriculture presented the latest information on this potentially devastating disease, contracted by eating slugs or snails that carry the small worms. that includes accidental consumption , when the tiny slugs are not fully removed from raw produce before it is eaten.
Panelists included state and federal officials, including experts from UH-Hilo and UH-Manoa, physicians from Hilo Medical Center, and representatives of Malama O Puna were also there. Puna is home to a large population of vegans who are concerned about how the disease may impact their way of life.
This video includes parts of the talks given by Dr. Jon Martel, the medical director for the internal medicine hospitalists program at Hilo Medical Center. Also, Dr. Robert Cowie, UH Manoa Pacific Biosciences Research Center, and Ann Kobsa, a biologist with Malama O Puna who knows many of the people stricken with the disease living in the Puna area.
The forum was sponsored by the UHH College of Pharmacy, National Institute of Food and Agriculture, the USDA, UH-Manoa and Global H.O.P.E.