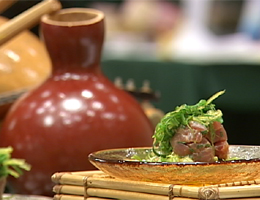 Part of the Kamehameha III birthday celebration
Video by David Corrigan, Voice of Stephanie Salazar
KEAUHOU, Hawaii: Local chefs put their poke to the test this weekend, here at the Sheraton Keauhou Bay Resort's Convention Center.
The first annual Sam Choy's Keauhou Poke Contest drew a large crowd, and talented chefs, to the competition.
Organizers tell us that in the Hawaiian language 'Poke' means to slice, cut crosswise into pieces, as with fish.
Poke, served in five-star restaurants and backyard BBQs, is one of Hawai'i's favorite foods.
We spoke to the man himself – local celebrity chef Sam Choy – during the event.
A wide array of poke recipes took center stage in the professional and non-professional division finals, with $10,000 in cash and prizes up for grabs.
The rules: All Poke recipes must include Hawaiian fish or seafood and the creative use of ogo or other seaweeds will be encouraged.
After putting on the finishing touches, the chefs were banished from the area as the judges moved in to taste the entries, presented in elaborate displays.
With all the tasting going on, a hungry public waited to dig in… and in the meantime strolled around the indoor Island Marketplace, which included this presentation on sustainable aquaculture by Guy Toyama of Friends of NELHA, who presented some sobering statistics on the world's ocean fishery.
When the judging was done, the crowd surrounded the remaining poke and chowed down.
The overall winner in the amateur division was Gwen Edwards of Kailua-Kona.
In the pro division:
Jayson Kanekoa of Waikoloa Beach Marriott took first place for Traditional poke category with his with "Fruits of the Sea Poke"…
He also took the cooked category with Lobster, Scallops & Shrimp Cappucino poke, and his Spicy Kampachi Pockets Poke took fist place in the spicy category, too!
Kevin Lanning of Island Thyme Gourmet Catering in Kailua-Kona won the "With Soy Sauce" category.
The day also included a a celebrity cook-off, officiated by Mayor Billy Kenoi…. a 30 minute challenge that was won by Gene "Bucky" Leslie of Flowers for Mama.
Proceeds from the First Annual Sam Choy's Keauhou Poke Contest will benefit Hawaii Community College Palamanui Culinary Arts program.
Which means its an exciting time for fans of the culinary arts here in Kona…
With events like this, and a new restaurant in the area, Choys vested interest in the Keauhou area is growing.
The contest is sponsored by Kamehameha Investment Corporation, Kamehameha Schools, the Sheraton Keauhou Bay Resort Spa, Sam Choy's Kai Lanai, Aloha Shoyu and Hamakua Macadamia Nut Company.