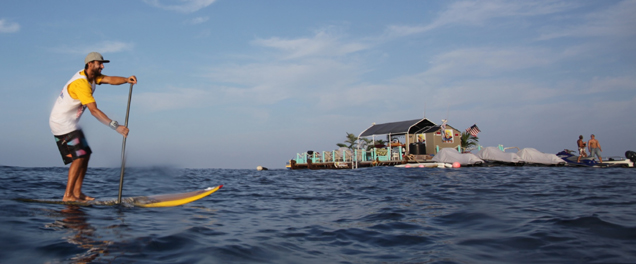 Photos courtesy vipconcepts.com | Voice of Stephanie Salazar
KAILUA-KONA, Hawaii: Kailua-Kona is gearing up for the big Ironman Championship, and folks in the service and hospitality industry are getting creative in an attempt to cater to the throngs of athletes arriving on the island.
Here's a unique one: Kona Jet Ski and Menehune Coffee Company are offering a floating coffee bar in the middle of Kailua Bay for swimmers training for the big race.
According to a media release, swimmers can take a break at Adventure Island (also known as Jet Ski Island) close to the King's Buoy approximately a half-mile from shore. There they can enjoy a hot cup of free Kona coffee, tea and snacks while resting before they continue their training swim.
The floating coffee bar will be open to all from 8 a.m. to 10 a.m., Friday, October 5 through Thursday, October 11.
The epic Ford Ironman World Championship will be off and running … and swimming and biking… on Saturday, October 13th.