5 am Update – Tropical Storm Niala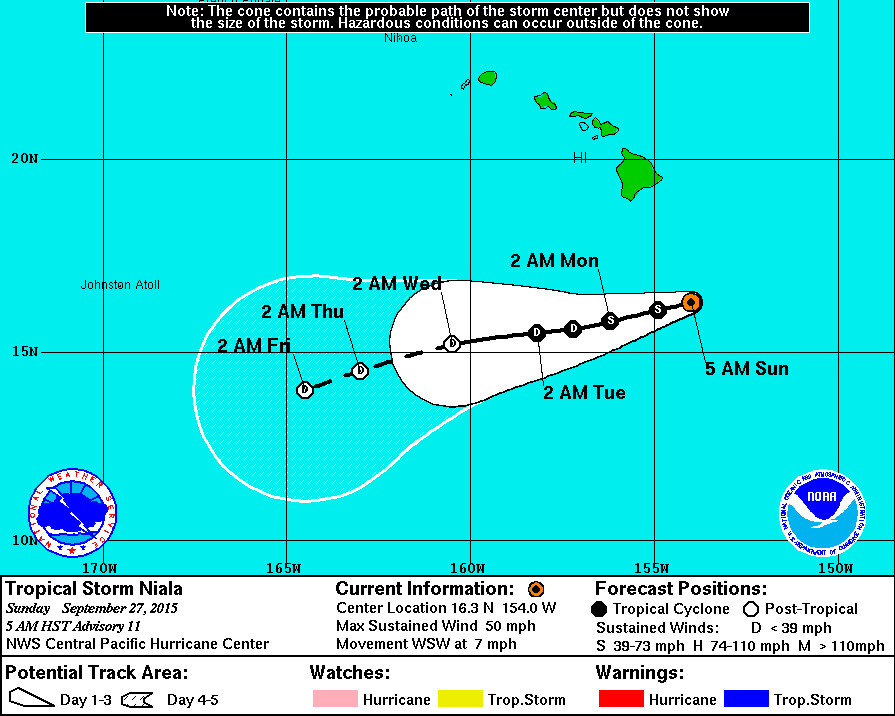 WARNINGS: The Tropical Storm Watch has been discontinued for Hawaii County.
LOCATION: Tropical Storm Niala is 245 miles south southeast of Hilo. Niala is now moving west southwest at 7 mph. This motion is expected to continue through Monday night.
STRENGTH: Maximum sustained winds have weakened to 50 mph with higher gusts. Additional weakening is expected during the next couple of days.
SIZE: Tropical storm force winds extend outward up to 80 miles from the center.
RAIN: A Flash Flood Watch is in effect for the entire Big Island. Total rainfall of 2 to 8 inches with isolated maxihigher mum amounts are possible within the watch area. These rainfall amounts could cause life-threatening flash floods, as well as rockslides and mudslides.
HIGH SURF: Large surf will continue to affect east and especially southeast facing shores of the Big Island through tonight. A high surf advisory is in effect.
WIND: Locally windy conditions will persist over the Big Island into Monday as strong high pressure remains north of the state, and a wind advisory is in effect. East winds 20 to 30 mph with gusts to 50 mph.
---
Hawaii County Civil Defense at 6:45 a.m.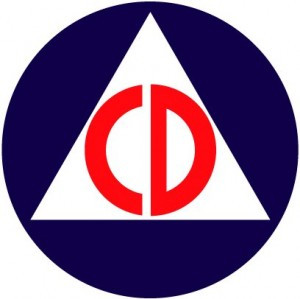 "The National Weather Service has cancelled the Tropical Storm Watch for Hawaii Island as of 5:00AM this morning. As of 5:00AM Tropical Storm Niala was located approximately 245 miles south southeast of Hilo and moving in a west southwest direction at 7 miles per hour. Currently Niala continues to move away from Hawaii Island and the threat of tropical storm conditions is expected to continue to decrease. Although conditions are expected to improve, the flash flood watch for Hawaii Island will remain in effect through tomorrow afternoon. In addition the High surf Advisory for the southeast facing shore will remain in effect through 6:00AM tomorrow morning. Surf heights of 8-12 feet can be expected with highest surf conditions occurring with the peak high tides. All roads are open at this time and motorists are advised to drive with caution and to prepare for possible hazardous conditions and to anticipate traffic delays."Hawaii County Civil Defense