(BIVN) – The eruption in the lower East Rift Zone (LERZ) continues with no significant change during the past 24 hours, officials say.
On Sunday morning, the USGS Hawaiian Volcano Observatory provided this update:
Fountains from Fissure 8 spatter cone continue to supply lava to the open channel with only small, short-lived overflows. During an overflight early this morning, geologists observed incandescence from Fissure 22, but no associated spattering or flow. Lava is entering the sea this morning on the southern side of the entry area primarily through the open channel, but also along a 1-kilometer (0.6 mi) wide area. The entry areas are marked by billowing laze plumes.

Pele's hair and other lightweight volcanic glass fragments from the lava fountain at Fissure 8 continue to fall downwind of the fissure, dusting the ground within a few hundred meters (yards) of the vent. High winds may waft lighter particles to greater distances. Residents are urged to minimize exposure to these volcanic particles, which can cause skin and eye irritation similar to volcanic ash.
Currently, there is no immediate threat, county officials say, but persons near the active flow should heed warnings from Civil Defense.
There also seem to be stronger earthquakes occurring at the summit area this morning, based on USGS notifications showing multiple tremors preliminary measured over Magnitude 3, including a M 3.5 and a M 3.7, just in the last few hours (screen grab below).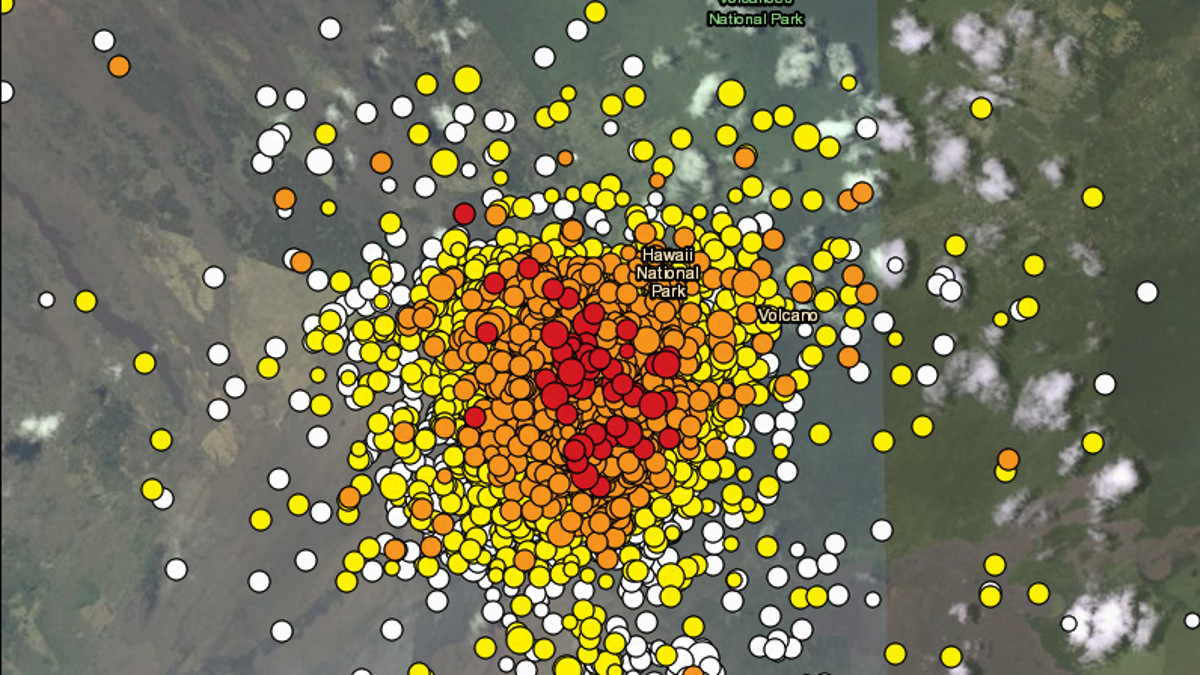 The USGS Hawaiian Volcano Observatory had this to say about the summit this morning:
At 6:52 p.m. HST on June 22, after approximately 25 hours of elevated seismicity, a collapse explosion occurred at the summit producing an ash-poor steam plume that rose 500 ft above the ground surface (4,500 ft above sea level) before drifting to the SW. The energy released by the event was equivalent to a magnitude 5.3 earthquake. Seismicity dropped abruptly from a high of 40 earthquakes per hour (many in the magnitude 3 range) leading up to the collapse explosion to 10 or less earthquakes per hour afterwards. Overnight, seismicity gradually increased, reaching about 30 earthquakes per hour by daybreak. Inward slumping of the rim and walls of Halemaʻumaʻu continues in response to ongoing subsidence at the summit.
"Due to frequent earthquake activity, residents in the Volcano area are advised to monitor utility connections of gas, electricity and water after earthquakes," Hawaii County Civil Defense said this morning.
Scientists say magma continues to be supplied to the Lower East Rift Zone in Puna. "Seismicity remains relatively low in the area with numerous small magnitude earthquakes and low amplitude background tremor," USGS wrote. "Higher amplitude tremor is occasionally being recorded on seismic stations close to the ocean entry. Additional ground cracking and outbreaks of lava in the area of the active fissures are possible. Residents downslope of the region of fissures should heed all Hawaii County Civil Defense messages and warnings."
The FEMA Disaster Recovery Center is open daily from 8am to 8pm, and is located at the Keaau High School Gym.
The U.S. Department of Labor has given the State of Hawai'i permission to offer Disaster Unemployment Assistance (DUA) in Hawai'i County as part of the joint state-federal response to the ongoing seismic activity and volcanic eruption on Hawai'i Island, the office of Governor David Ige announced Friday.
According to the state:
Those who may be eligible for DUA benefits are individuals who were living or working in the affected area at the time of the major disaster and unemployed as a direct result of the major disaster. Eligible individuals must also NOT qualify for regular unemployment insurance.

The DUA benefits begin the week of May 6, 2018 and expire the week ending November 10, 2018.

Individuals may qualify for DUA benefits if they remain unemployed because of the disaster. Regular unemployment insurance and DUA benefits cannot be paid concurrently.
"I encourage all individuals who believe they may qualify to apply as soon as possible as the deadline for filing for Disaster Unemployment Assistance is July 23, 2018. Eligibility is broader for this kind of assistance compared to regular unemployment insurance benefits," said Gov. Ige.
The official notice is posted here.