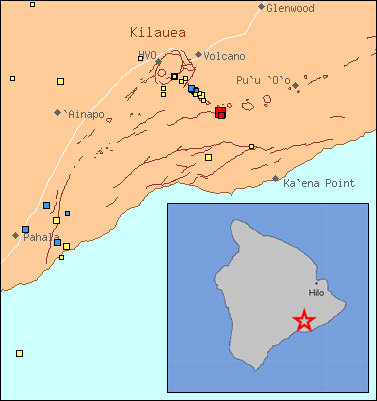 HAWAII VOLCANOES NATIONAL PARK, Hawaii: A 3.2 duration magnitude quake shook on the Big Island of Hawaii near the active Kilauea volcano area within the Hawaii Volcanoes National Park on Thursday, according to the USGS.
The earthquake occurred at 5:37 p.m. and was located about 5 miles south southeast of Volcano Village, and 6 miles to the southeast of the Kilauea Summit.
Geologists say it was 11 miles west southwest of Pu'u O'o crater, which is an active vent along the east rift zone. Only a day or two ago, the vent started to seep lava over the western ledge of its active crater, where a bulging lava lake has been growing.
The image to the right is a composite of two different USGS maps showing the event.
This event has not yet been reviewed by a seismologist.