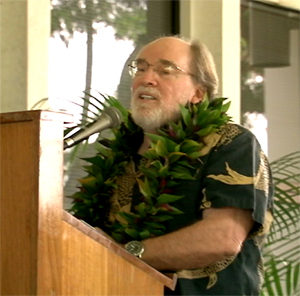 Voice of Stephanie Salazar
Governor Neil Abercrombie stopped by for a visit to the Hilo area on Tuesday, and it was the governor's busiest schedule on the east side of Hawaii Island since he took office.
The day begins at Keaukaha Elementary shortly after 8 a.m. where the Governor was briefed on the Aquaponic System installed at the school.
An hour later, Abercrombie arrived at Hilo Medical Center, where he attended the Trauma Level 3 Celebration.
The Hawaii Department of Health, Emergency Medical Services and Injury Prevention Branch, has awarded both Hilo Medical Center and Kona Community Hospital the new designation following an intensive and rigorous survey process.
Hospital officials say Level III status means Hawaii County is better equipped to reduce death rates from trauma, which is critical given the high number of serious motor vehicle and ocean-related accidents. Hilo Medical Center and Kona Community Hospital Trauma Teams combined responded to over 464 "activations" in which these teams were fully assembled prior to the patient's arrival at the hospitals.
After the hospital, the governor attended the dedication ceremony for the University of Hawai'i – Hilo's new Science and Technology Building.
The new $25 million dollar facility, located at the corner of Lanikaula and Nowelo Streets, spans more than 42,000 square feet and fulfills the need for additional classrooms, office space and new state-of- the-art laboratories for UH Hilo's expanding Physics, Astronomy and Chemistry programs.
The University expects to serve more than 1,700 students at the building daily.
After the dedication, it was up the street to the Imiloa Astronomy Center, where the Governor will be attended the Hawai'i Island Chamber Luncheon.
Finally, at 2 pm., the governor was serenaded at the East Hawaii State Office building, where a large crowd gathered to recognize volunteers.
EDITOR'S NOTE: Video for this report comes from a variety of sources: Lynn Beittel of Visionary Video filmed the UH-Hilo stop, while Tim Bryan captured the state building ceremony. Mahalo to Daniel Morii for providing video on behalf of the Hilo Medical Center showing the governor's visit to the hospital. Still photos courtesy the Office of the Governor.