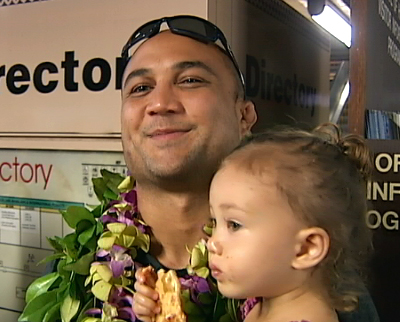 November 22, 2010 – HILO, Hawaii
Video by David Corrigan | Reported by Peter Serafin
Mixed martial arts champion BJ Penn returned to his hometown of Hilo, landing at the Hilo International Airport on Sunday evening, after defeating Matt Hughes at UFC 123.
In this third fight between two of MMA's all time greats, held at the Palace of Auburn Hills in Detroit, Penn knocked Hughes out only 21 seconds into the first round.
This was a stunning comeback for Penn, who lost the lightweight championship to Frankie Edgar in April, and fell int the August rematch.
"Glad to be home," Penn said at the airport, holding his daughter while surrounded by a small group of friends and family. "Just got off a 10 hour flight. Glad everything went well. We had a great training camp and just very fortunate everything worked out in our favor. Happy to be home"
Penns decisive win on Saturday put to rest the notion that Penn's best days of fighting were behind him.
New Patient Safeguards for Online Drugstore Prescriptions. Part 2