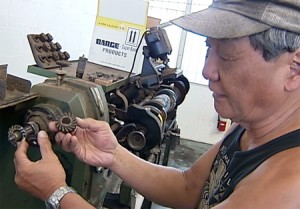 By Stephanie Salazar
The start of 2011 means the end of one long time local business in Hilo.
The ying yang neon sign that marks the Modern Shoe Repair storefront went dark on December 31st. Family and friends gathered to mark the occasion with food and fun.
Owner Jerry Song, who learned leather craft and shoe repair from his father Gilbert, opened the business back in the 1950's.  Modern Shoe repair was the place to go for generations – to buy work boots, repair leather jackets, zippers and put new heels or soles on everything from muk lucks, pumps to cowboy books.
When he announced his plan to retire a few months ago, Song said the shoes for repair came pouring in; he said he had never had so many shoes in his shop at one time. It forced him to work seven days a week and he had stop taking in shoes before the new year. 
So, where can you go for shoe repair now?  Jerry said to try that small shop on Kukui or head to Jim in Kona.