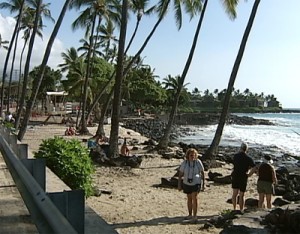 Video by David Corrigan | Voice of  Stephanie Salazar
Hawaii County Ocean Safety Department has closed several west Hawaii beaches due to high surf on Thursday. The list included Magic Sands, Kahaluu and La' aloa.
Later in the day the list of closures expanded to include Mahukona Wharf, Maumai Beach, Kohanaiki-Pine trees and Ooma Beach. 
Local bodyboarder Steve Rogers said Thursdays waves were not great for surfing, especially towards the end of the day, but also said Friday should be better.
"Its not very often in Kona we get to have such big beautiful waves," said Rogers, who was born and raised in Kona. "Hopefully tomorrow morning we'll get some more. There's like two more swells back to back, so theres going to be some dangerous waves."
The National Weather Service has posted a High Surf Advisory for Kona and Kohala into Friday evening. The NWS has also added a High Surf Advisory for the North and East side of the Big Island, saying that north facing shores will have wave heights of 14 to 18 feet today and into Friday night.