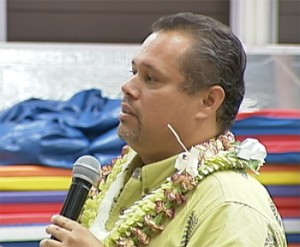 Video by David Corrigan | Voice of Stephanie Salazar
A large crowd was on hand for the Waimea Community Association's first town meeting of the year on Thursday night. The gathering featured the district's new state senator, as well as the newly named director of the Department of Hawaiian Homelands.
The Waimea Hawaiian Civic Club opened the meeting with a choral presentation, led by led Kanani Kapuniai.
The meeting took place at the Waimea School Cafeteria, where many members of the Hawaiian community were in attendance to hear from the newly appointed Hawaiian Homelands chair, Alapaki Nahale-a.
The crowd was also interested to see the new State Senator for District 1, Malama Solomon, who was appointed by the Governor after Dwight Takamine resigned to take head the state Labor Department. Solomon explained her goals for the upcoming legislative session, which will include hard work on the Senate Committee on Ways and Means.
Also on the agenda, the State Representative for the Waimea area, Cindy Evans, as well as County Council Vice Chair Pete Hoffmann.
The audience also had a chance to ask questions of the new public figures.
Big Island Video News will have more on DHHL interim director Nahale-a, including his "ESP" vision for the future of homelands administration… entrepreneurship, service and pono.
For more on the Waimea Community Association and its monthly meetings, visit http://waimeatown.org/