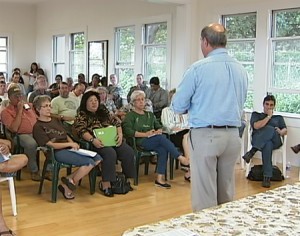 Video by David Corrigan | Voice of Stephanie Salazar
Residents of Ka'u packed the Old Pahala Clubhouse on Wednesday night, to hear about the new biofuel project being proposed for the area.
There was only a few days notice prior to the meeting. Many residents were surprised when the Hawaiian Electric Company and 'Āina Koa Pono made the announcement at a sudden press conference held on Oahu.
Officials with both companies said they could not diclose much information prior to finalizing negotiations.
Brittany Smart, the councilwoman for the district, says there was a lot of initial confusion in the community.
HECO and 'Āina Koa Pono have agreed to develop a 13,000 acre Energy Farm as well as a processing plant located on the site of the old macadamia equipment shed. The industrial zoned plot is owned by the Edmund Olson trust. Company officials say the $320 million project will create a minimum of 300 construction jobs over the first two years and ultimately more than 100 permanent operation and farming jobs.
But residents had a lot of questions about what the benefits to the community will be, aside from the jobs.
Former councilman Guy Enriques suggested a way for the company to give back, in a fashion similar to the Geothermal Relocation and Community Benefits Fund.
Other residents, who live next door to the proposed location, were worried about the impacts the plant would have on their quality of life.
Company officials say that if the community preferred, it would be willing to look into negotiating a move to Bishop Estate owned ag lands closer to the Transfer Station. However, the move would need community support in order to get the needed government permits.
The Aina Koa Pono biofuel plant would produce 14 million gallons per year by 2014. Although it will reduce energy costs in the long run – when oil prices eventually rise to near $150 a barrel – the initial cost to the consumer will go up. Subject to approval by the Public Utilities Commission, the immediate difference in price between the locally grown and produced biofuel and the fossil fuel it replaces would be spread across customers on all islands. Therefor, based on December 2010 fuel costs, this would add less than 1/3 of a cent per kilowatthour, or $1.55 to $1.86 per month, to a typical residential customer bill.