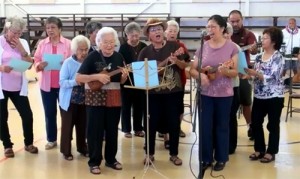 Video courtesy Hawaii County Office of the Mayor | Voice of Stephanie Salazar
The Paauilo Community Center Annex was finally reopened on Saturday after extensive repairs, and officials marked the occasion with a blessing.
The 78 year old Hawaii County building was damaged in the 2006 Kiholo earthquake.
The Paauilo Senior Citizens who use the facility provided entertainment at the ceremony. The group was also honored for their many contributions in remarks by Mayor Billy Kenoi.
Many employees who worked at the facility over the years also were honored.