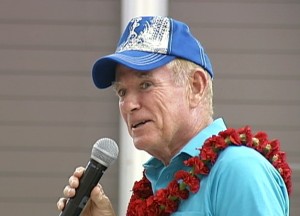 Voice of Stephanie Salazar
Kohala Councilman Pete Hoffman was recovering at Queen's Medical Center on Oahu Monday, after having what a family member called a "mild heart attack."
Sherry Bracken reported on the Big Island News Center website that Hoffmann is Ok now, after receiving a stent to rescue an artery that was completely blocked. It was reported that Hoffmann expects to return home to the Big Island on Thursday or Friday.
Hoffmann, who represents the northern most District 9 on the Big Island of Hawaii, had planned to hold a series of talk stories in the coming weeks, explaining to the public the benefits of impact fees. He also planned to reintroduce plastic bag reduction legislation before the annual budget wrangling begins. 
Hoffmann spoke about those initiatives in Waimea recently. At the meeting, Hoffmann appeared to be in good health. Reports say he will return to active council duty in early February.