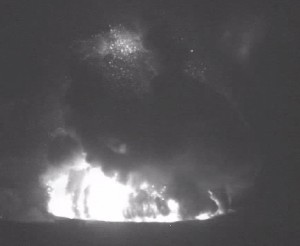 Video courtesy USGS Hawaiian Volcano Observatory | Voice of Tim Bryan
These Hawaiian Volcano Observatory webcams captured some incredible video at the summit of Kilauea this past week.
Overnight on January 17, several large portions of the Halema'uma'u vent walls collapsed into the lava lake below, including a 40 foot wide piece of the crater floor. 
Geologists say the largest collapse caused a small explosion that littered the rim of Halema`uma`u crater directly above the vent with spatter. 
The circulation pattern of the lava lake was interrupted by the explosion, and only a few short-lived increases in the height of the lava surface have occurred since.
On January 21, another collapse was captured on film by a Webcam during daylight hours. This resulted in another explosive event, and this dark, dusty plume was sent billowing from the growing crater vent.
The video was posted to the HVO website at http://hvo.wr.usgs.gov