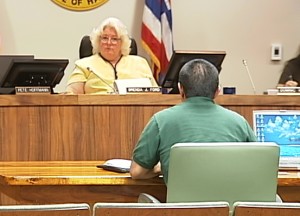 Video by David Corrigan | Voice of Stephanie Salazar
Kohala Councilman Pete Hoffmann is going forward with his quest to require the installation of tsunami warning sirens for certain planned developments on Big Island coastlines.
Bill 291 has been in the works for over a year. In fact, by pure coincidence, it first came forward after the 2010 tsunami scare last February.
The bill was given a negative recommendation by both the Windward and Leeward Planning Commissions, which Hoffmann says is a disappointment.
A vote on the bill was postponed, so that the Planning Department might come up with a viable suggestion as an alternative to Hoffmann's proposal.