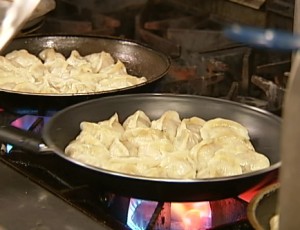 Video by David Corrigan | Voice of Stephanie Salazar
Folks in Hilo were celebrating the Lunar New Year this weekend, which is the year of the Rabbit according to the Chinese calendar, or year of the cat in Vietnam.
This special dinner at Hilo Rice Noodle on Kinoole Street was sold out on Saturday night.
Chef Imay gave our camera a glimpse of the eight course meal being prepared for the night's feast – as per the tradition. This dinner for 70 included jai, dumplings, chicken, duck, pork, fish, with gao for dessert, and of course rice. Each course has a special meaning such as rond dumplings for gathering, half moon for gold.
Saturday's menu also included wine pairings by Randy Nunokawa of GRAPES, the wine shop.
And next Saturday, February 12th – the 9th annual Hilo Chinese New Year Festival will dance its way through Downtown Hilo en route to Kalakaua Park.
By the way – if you are turning a multiple of 12, such as 24, 48, or 60 this year, then you were born in the Year of the Rabbit.
Rabbits enjoy order and harmony at home and predictions are for a mostly tranquil year.