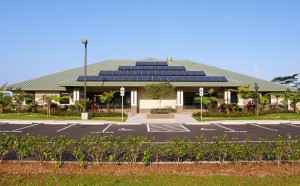 Media release | Hawaii County Police Department
The public is invited to the grand opening of the new Pāhoa police station on Thursday, February 17.
The new station, located just north of Pāhoa town on Highway 130, will replace a converted kit house in Pāhoa town that functions as a police substation.
Puna Captain Samuel Jelsma said the opening of the new station is an "important milestone" that will provide better service to the public and allow police officers to work more effectively. "This new structure provides a secure facility, more workspace, three holding cells, surveillance cameras and adequate parking," Jelsma said.
He added that the station will provide a stronger police presence for lower Puna, which generates the vast majority of calls for police assistance in the Puna District. "The location along Highway 130 will provide quicker response times in an emergency to most subdivisions in the area, as officers will no longer need to negotiate the narrow roadways of Pāhoa Village before reaching the highway when responding from the station," Jelsma said.
Citizens are already able to renew their driver's licenses and register their vehicles in a portion of the new building operated by the County Department of Finance. In the near future, they will be able to register firearms by appointment. (The Police Department will notify the public when firearm registration at the Pāhoa station becomes available.)
A ceremony marking the station's grand opening is scheduled for 9 a.m. on Thursday, February 17. After the ceremony, refreshments will be served during an open house from 10-11 a.m.
Chief Harry S. Kubojiri encourages the community to join police in celebrating the grand opening.