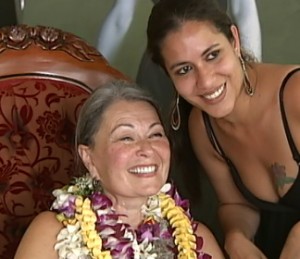 Video by David Corrigan | Voice of Stephanie Salazar
Just down the street from Kalakaua Park, a long line stretched out of Hairy Monkey Books and down the block on Keawe Street, as fans of Roseanne Barr waited to meet the comedian and best selling author.
Barr read an exerpt from her latest book: "Roseannearchy: Dispatches From the Nut Farm," before signing copies for Big Island residents.
Barr is herself a resident, living on her own Nut Farm – that is, of the mac nut variety – in Honokaa.
The event will help raise money for the Big Island chapter of Parents, Families and Friends of Lesbians and Gays, or "PFLAG".