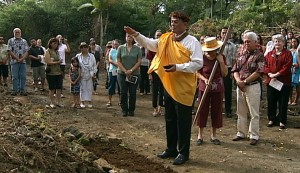 Video by David Corrigan | Voice of Stephanie Salazar
It was a moment decades in the making.
A bilingual blessing and groundbreaking was held Saturday for the University of Hawaii – Hilo's "Ka Haka `Ula O Ke`elikolani" College of Hawaiian Language. There were emotional tears of joy in the large audience, as the first part of the opening ceremonies were conducted entirely in Hawaiian.
Director Kalena Silva delivered a genealogical presentation of native speakers from various parts of Hawaii Island who assisted in Hawaiian language teaching at UH Hilo and Hawaii Community College dating back to 1960.
Then, the gathering made a dramatic procession to the future site of the building, where Mrs. Lydia Makuakane, the eldest living of those native speakers, turned the soil at the piko, or central core of the parcel.
Later, having returned back to the tent, officials explianed how important this building will be to the universitya and Hawaiian culture.
"This building promises to be both functional and extraordinarily beautiful, with profound symbolic and spiritual elements," said Chancellor Donald Straney. "It's a building to match the quality of the programs offered by the College of Hawaiian Language."
"This was a major accomplishment since very few initiatives were funded this past session," said Gerald De Mello, director of university relations. "Our Big Island delegation led by House Higher Education Chairman Jerry Chang in concert with his Senate counterpart Jill Tokuda really came through for us. We were also fortunate to have the strong support of UH President M.R.C. Greenwood and then-Governor Linda Lingle."
It is estimated that the building will be completed by the end of 2012.