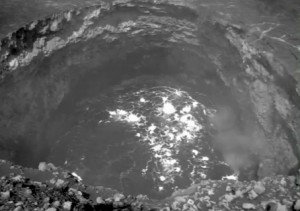 Video courtesy USGS Hawaiian Volcano Observatory | Voice of Tim Bryan
The Hawaiian Volcano Observatory reports that at 8:42 a.m. on Monday morning, a section of rock from the north wall of Kilauea Volcano's summit vent broke away, and collapsed into the lava lake below. Moments later, gas and ash were explosively ejected from Halema'uma'u, as this dusty-brown plume shot skyward from the crater.
About three hours later, another, larger crescent-shaped piece of the vent rim plummeted into the lava. The rock was estimated to be about 395 ft long and up to 16 ft wide. Shortly thereafter, the lava lake level began to drop. It continued to fall throughout the day, but rose again overnight.
The event had been forecast by the Hawaiian Volcano Observatory geologists, mainly because that part of the vent rim was overhung by about 180 ft. Rocks falling from this overhang have been a common occurrence, but spattering episodes and the intense heat of the rising lava lake has increased the number of collapses over the past few weeks.
On Monday, blocks of rock hitting the surface of the lava lake created sharp popping sounds that could be heard by visitors at the Jaggar Museum Overlook in Hawai'i Volcanoes National Park. The churning lava lake within the summit vent also produced a sound likened to crashing waves. Geologists were able to make this recording of these sounds, which were posted to the HVO website.
The continued extension across the summit area, as well as numerous earthquakes, suggests that the volume of magma at the summit has increased, according to Jim Kauahikaua, HVO Scientist-in-Charge.
A recent overflight above Halemaumau showed a rising lava surface, at this point as little as 98 yards below the floor of the crater.
Meanwhile, further down along the east rift zone, the volcanic display at Pu'u O'o is no less impressive.
The USGS filmed this footage between February 6-8. Scientists say lava has been erupting sporadically from three vents within Pu`u `Ō `ō crater-a cone on the west side of the crater floor (in this video, that is in the foreground to left), a cone on the northeast side – here in the center frame – and from an opening on the east crater wall seen in the background.
Unlike the Upper East Rift Zone a few days ago, seismic tremor levels uprift of Pu`u `O`o remained low and steady. The most recent sulfur dioxide emission rate measurement from east rift zone vents was 300 tonnes/day.
Remember, daily updates about Kilauea's ongoing eruptions, recent images and videos of summit and east rift zone volcanic activity, and data about recent earthquakes are posted on the HVO Web site at hvo.wr.usgs.gov.