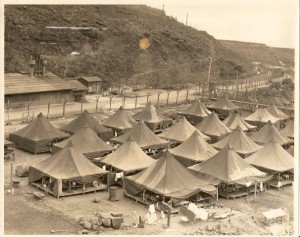 Media release | National Park Service
WW II Internment Study – NPS Announces Public Input Opportunities
Scoping Sessions to be Held in February & March throughout Hawaiʻi
HONOLULU, Hawaiʻi  — The National Park Service (NPS) is conducting a "Special Resource Study" of Hawaiʻi's World War II confinement sites to determine the best way to preserve the sites and share their history. Informational meetings and opportunities for public input are scheduled throughout Hawaiʻi during February and March and the public is invited to participate.
The U.S. Congress, under Public Law 111-88, directed the NPS to carry out this study because of the importance of the history of Hawaiʻi's Japanese Americans and European Americans forcibly confined during World War II. Mainland sites such as Tule Lake and Manzanar, California and Minidoka, Idaho tell part of the story of the Japanese American Internment during WWII. In contrast, Hawaiʻi's sites have received relatively little attention.
Preliminary studies have identified 13 sites in Hawaiʻi where individuals were confined for varying lengths of time between the start of the war in 1941 and its conclusion in 1945. The 13 sites are located on six islands in the State of Hawaiʻi: Kauaʻi, Oʻahu, Maui, Molokai, Lānaʻi, and Hawaiʻi.
The largest of all the sites in the State of Hawaiʻi was Honouliuli Gulch, located near Ewa, on Oʻahu, where more than 1200 individuals were confined between 1943 and 1945. Hundreds of individuals were processed through the U.S. Immigration Station in Honolulu and temporarily housed on Sand Island prior to the construction of the larger internment facility at Honouliuli. These individuals were primarily leaders of the Japanese American community, but also included German Americans and Italian Americans, and a number of prisoners of war.
The NPS will evaluate the significance of these sites and consider a range of preservation alternatives. Different alternatives will likely be appropriate for different sites and may include proposals for informational signage, educational programs, technical assistance, or where appropriate, possible management by the NPS or other preservation organizations. After the public scoping sessions, the NPS will develop a set of preservation alternatives and recommendations, which will be presented to the public for comment and then forwarded to Congress.
Informational meetings and opportunities for public input are scheduled throughout Hawaiʻi during February and March. Two sessions are planned each day to give the public opportunities to attend. Interested individuals can access the Honouliuli website to find out more about the study, sign up for the mailing list, or provide comments. Please check the website for updates: http://www.nps.gov/pwro/honouliuli/
SCHEDULE OF PUBLIC MEETINGS
Sunday, Feb. 27th (Booked to Capacity) – Honouliuli Day of Japanese America Citizens League
Remembrance Japanese Cultural Center of Hawaiʻi
Tuesday, March 1st – Kona Outdoor Circle 76-6280 Kuakini Highway
3-5pm, 6-8pm Kailua-Kona, HI 96740
Tuesday, March 10th – Hawaiʻi Japanese Center 751 Kanoelehua Avenue
3-5pm, 6-8pm Hilo, HI 96720-4517
Thursday, March 17th – Mitchell Pauole Center 90 Ainoa Street
3-5pm, 6-8pm Kaunakakai, Molokai, HI 96748
Tuesday, March 22nd – Lānaʻi High & Elm. Schl. 555 Fraser Avenue
3-5pm, 6-8pm Lānaʻi City, HI 96763
Thursday, March 24th – Nisei Veterans Center Kahului Beach Road,
3-5pm, 6-8pm
Tuesday, March 29th – Kauaʻi Veterans Center 3125 Kapule Hwy # 1,
3-5pm, 6-8pm Lihue, Kauaʻi, HI 96766
Thursday, March 31st – WWII Valor in the Pacific Education Center & Lanai
6-8pm National Monument (Pearl Harbor Visitors Center)