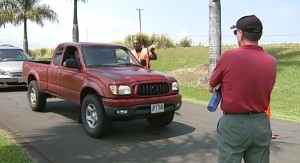 Video by David Corrigan | Voice of Stephanie Salazar
On Sunday, Hawaii state legislators made a stop in Pepeekeo to learn about the planned Hu Honua bioenergy plant. But waiting for them when they arrived: A community roadblock.
Local residents opposed to the power plant gathered on Sugar Mill Road and stopped cars going to and fro, letting everyone know about their opposition to the project before granting motorists passage. The residents said that the private road is under the local homeowner associations' jurisdiction, and that the Hu Honua company has failed to pay any road maintenance fees.
Pending approval, Hu Honua will resurrect an old coal burning plant that has been out of commission for years, and convert it to handle biofuels. At the moment, these residents are awaiting a decision in a contested case hearing… part of their opposition to a permit application that went before the Windward Planning Commission last year.