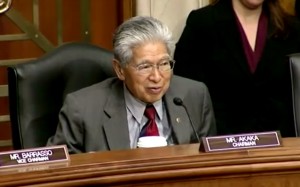 Video courtesy Sen. Akaka on YouTube | Voice of Stephanie Salazar
On Wednesday, the biggest news in Hawaii came out of Washington D.C., where it was announced that U.S. Senator Daniel K. Akaka will not seek another term in office in 2012.
The Democratic Senator will serve out the rest of his term and allow Hawaii voters to choose his successor.
Akaka said in a statement that it has been a great honor and privilege to serve the people of Hawaii for nearly 22 in the Senate and 13 plus years in the House of Representatives.
After his service has ended, he plans to return to Hawaii, and spend time documenting his life and career, and serving as a mentor to future political leaders.
He also thanked Senator Dan Inouye, and said he would be forever grateful for his friendship and steadfast support.