PRELIMINARY EARTHQUAKE REPORT | U.S. Geological Survey, Hawaiian Volcano Observatory
Version #1: This report supersedes any earlier reports of this event.
This event has been reviewed by a seismic analyst.
A light earthquake occurred at 10:58:25 PM (HST) on Thursday, March 10, 2011 .
The magnitude 4.6 event occurred 2 km (1 miles) SW of Kalapana.
The hypocentral depth is 9 km ( 6 miles).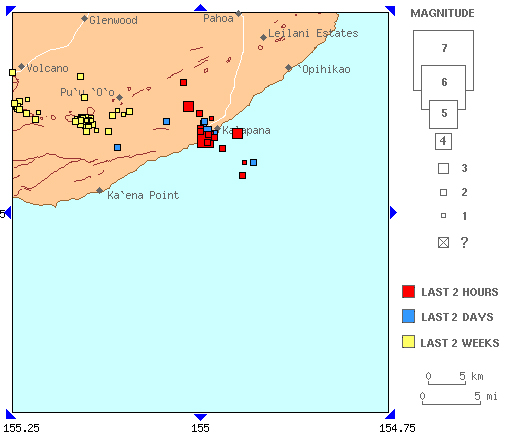 Magnitude:
4.6 – local magnitude (Ml)
Time:
Thursday, March 10, 2011 at 10:58:25 PM (HST)
Friday, March 11, 2011 at 8:58:25 (UTC)
Distance from:
Kalapana – 2 km (1 miles) SW (223 degrees)
Pu`u `O`o Crater – 13 km (8 miles) ESE (115 degrees)
`Opihikao – 15 km (9 miles) SW (229 degrees)
Hilo – 44 km (28 miles) SSE (167 degrees)
Coordinates:
19 deg. 20.4 min. N (19.340N), 154 deg. 59.5 min. W (154.992W)
Depth:
9.3 km (5.8 miles)
Quality:
Fair
Location Quality Parameters:
Nst= 35, Nph= 35, Dmin=9 km, Rmss=0.08 sec, Erho=0.9 km, Erzz=0.5 km, Gp=216 degrees
Event ID#:
hv60222496
Additional Information:
map || waveforms