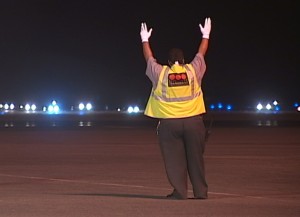 Video by David Corrigan

It seemed like deja vu for the residents of seaside Keaukaha on Thursday night / Friday morning, as the coastal inhabitants of Hawaii Island began to evacuate before a predicted tsunami makes landfall.
A 8.9 earthquake in Japan has triggered a tsunami warning in Hawaii. Terrible images of rushing water consuming coastal cities in Japan have already been seen on network television.
The Keaukaha community, as it has done in past drills and warning scenarios, drove across the closed runway of Hilo International Airport to make a quick getaway.
It was around this time last year that the same scenario played out, after an earthquake in Chile triggered a tsunami warning in Hawaii.
Officials say mandatory evacuations for those living in the tsunami zone will be underway by 2 a.m.