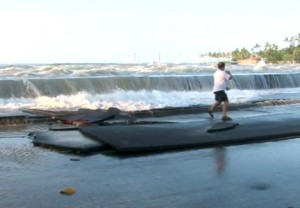 Video courtesy Lynn Beittel, Matt Binder of Visionary Video
As the waters from the rising tsunami tides pour over the breakwall on Alii Drive in Kailua-Kona, debris and helpless marine life find their way onto the popular Big Island thouroughfare.
Luckily for some of the fish found flopping on the street, Kona resident Christopher Thomason was willing to brave the rushing currents and devastated asphalt, so that he might toss them back to the safety of the Pacific Ocean.
Numerous Alii Drive businesses and hotels sustained damage in the 2011 tsunami that originated in a 8.9 earthquake in Japan.  
Hawaii County says "extensive damage was reported to businesses on both sides of Ali'i Drive, including the Bubba Gump Shrimp Company, the ground floor of the Kona Reef Hotel, and the Kona Inn Restaurant. "
The King Kamehameha Kona Beach Hotel was also sustained flood damage on the first floor.