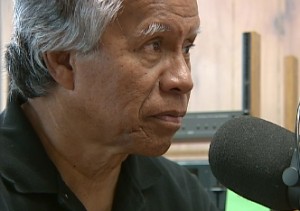 Video by David Corrigan

In remote Ka'u, the southern-most district of Hawaii Island (and therefore, the United States), communication can be a challenge. Technological infrastructure is  lagging behind the rest of the county. One ray of hope is the new KAHU community radio station, on the dial at  91.7 FM. The station says that for the first time in history, residents between Volcano and South Point were able to hear Civil Defense alerts over the local airwaves.
Ironically, the station reports, general manager Wendell Ka'ehu'ae'a and his engineer Donal Mussell, just finished installing the emergency alert system the day before, not realizing that it would be put into commission the next day when a 9.0 earthquake would devastate Japan, sending tsunami waves in the direction of Hawaii.
There have also been reports that the tsunami siren did not go off at 10 p.m. in Pahala, making the radio statio service even more relevant to Thursday night/Friday morning's emergency situation.
In this video, GM Wendell Ka'ehu'ae'a explains why this timely new development is so important for Ka'u. 
Punalu'u, shown in the video above, suffered obvious erosion to the popular black sand beach. According to According to the Ka'u Calendar news blog, waves from the tsunami surge filled the beach pond with seawater and left the Punalu'u shoreline covered in debris. Luckily, the the small shops next to the ocean and area homes were spared, though the yards are full of rubbish. 
You can listen to KAHU radio live online, at kahufm.com