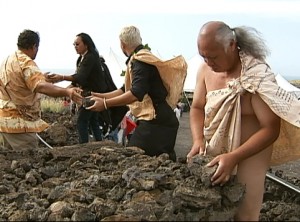 Video by David Corrigan
An important step towards making the dream of higher learning in North Kona a reality has gotten underway.
On Friday evening, University of Hawaii Systems officials, state and local leaders, and supportive members of the community gathered to bless the rocky location that will one day (in two years, planners hope) be home to the Hawaii Community College – Pālamanui campus.
A Hawaiian protocol ceremony was conducted by Dr. Taupori Tangaro, chairperson of Hawai'i Community College's Kīpaepae Hawai'i Protocols Committee. A short program of speakers followed and included University of Hawai'i President M.R.C. Greenwood, Hawai'i Community College Interim Chancellor Noreen Yamane, and University of Hawai'i Center, West Hawai'i Interim Director Beth Sanders.
Roger Harris, Director of Governmental Affairs for Pālamanui Global Holdings, LLC spoke about how crucial the $4.7 university funded access road will be to the project. Under an agreement signed in November 2010, the university will build the road to the site, and Pālamanui Partners, LLC, developers of the Pālamanui community, commit to spending an equal amount toward building the first of two planned phases of the community college project. The first phase will include one complete building and a stand-alone portion of a second building, to be extended during phase two.
Officials say Hawaii Community College – Pālamanui will be one of the most energy-efficient college complexes in the United States when it opens on the 78-acre site, about a mile north of Kona International Airport, in fall 2012.