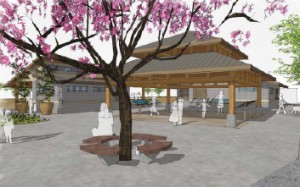 Video by David Corrigan | Voice of Stephanie Salazar
Beachgoers at Richardsons in Keaukaha were surprised to see a Hawaiian monk seal basking on the black sand by the waters edge on Wednesday.
Volunteers with the Monk Seal Response Team quickly isolated the area around the seal with police tape, and educated onlookers who stopped by for a closer look.
The team said the seal did not appear to be injured.
Caretakers for an injured seal do not have many options on Hawaii Island, but that will change once a planned Monk Seal Rehabilitation Facility gets built in Kona.
A draft environmental assessment for the facility was just published, detailing the purpose and need for the operation, which will be located at the NELHA energy lab near the Kona airport.
The project will consist of a holding facility with two in-ground, custom-built fiberglass pools and two smaller in-ground pools designed specifically for monk seals. The Marine Mammal Center – a non-profit agency that specializes in rehabilitation and care of wild marine mammals – designed and will operate the facility.
The noise from the airport is not expected to be a problem for the recuperating seals, according to the draft EA. The sound levels are said to be within the tolerance of the seals
The Hawaiian monk seal is a critically endangered species on the verge of extinction. For reasons yet unknown, only one in five newborns survives to reproductive maturity. If the species is to survive, according to Marine Mammal Center, immediate and aggressive intervention is needed to enhance its recovery.