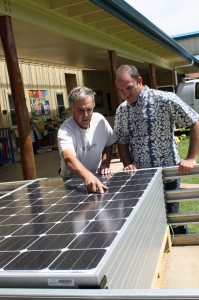 Photos courtesy Parker School | Voice of Stephanie Salazar
Parker School in Waimea took a leap into sustainable energy when they installed 30 solar panels on the lower school roof. The photovoltaic system produces about 7,000 watts of energy.
Sky Quest Energy Co., owns the system, which was installed by JFI Electric, in partnership with Parker School. While students were on their weeklong spring break from March 21 through March 25, workers installed the system, connected it and had it inspected and ready to operate when the school reopened.
Jonathan Vedelli, Parker School business manager, said that the partnership with Sky Quest Energy Co. is a direct savings for the school, with no installation fee, a utility bill reduction and a guaranteed 20-year rate.
"It was an attractive partnership for us because of the way it was structured, with no out-of-pocket costs," Vedelli said. "It's environmentally friendly as well as a smart use of resources."
"It's also a great lesson for our kids," Vedelli added. "It's a way to teach them about solar energy and use it for science projects. The kids can be out there and track the amount of energy produced and learn about weather and energy. There are many benefits to our school."
Stephen Groves, owner of Sky Quest Energy Co., based in Hawi, said the company is nearby, so the system is easy to monitor and maintain.
"Our goal is to make a photovoltaic power system at a cost they can afford," Groves said.