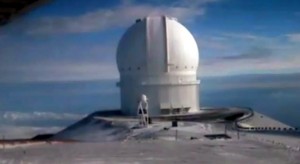 Voice of Stephanie Salazar
Mauna Kea has been getting some snow over the last week.
The Big Island of Hawaii mountain received about 4 to 6 inches last Wednesday, as you can see here on the webcam.
Flurries have kept up off and on throughout the rest of the week, and on Sunday, the summit still had some white stuff blowing around.
Snow on Mauna Kea is not unheard of in the month of April, although we shouldn't expect too many more sites like this as spring gives way to summer.