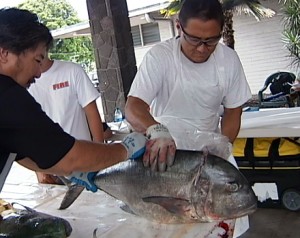 Video by David Corrigan | Voice of Stephanie Salazar
It was time for the big weigh-in on Sunday, June 12th, in Hilo… time for monster trucks and monster fish.
Four days of serious shoreline fishing marked the 2011 S. Tokunaga's Ulua Challenge.
Ulua – the prized catch of Hawaii's fishing community – was the target of this prestigious tournament. All the fisherman had to do was cast from any point along the Hawaii Island shoreline; no boats allowed.
The best part, besides the sight of the giant ulua and the huge assortment of door prizes, were the stories of the fight.
2011 was another record year for participation: 535 contestants, nearly enough to fill the Hilo Civic at the awards after the weigh-in.
As always, tournament organizers – principally the S. Tokunaga Store, one of East Hawaii's beloved fishing institutions – stressed fishery sustainability, the use of barbless hooks, and tag and release practices.
As always, the winner of the tournament arrived late in the day, after a number of big fish tipped the scales between 40 and 70 pounds.
The top ulua was finally weighed in at 75.2 pounds… reeled in by Jason Arquitola. His catch topped the next heaviest ulua, belonging to Kalani Kekuawela, at 71.6 pounds.
Kahana Itozaki – fishing alongside the legendary Robert Texeira – took first place in the Omilu Division with a 21 pounder.
With hundreds of shorecasters out on the hunt, its up to the fisherman to be honest about the rules. One angler who disqualified himself after he had to jump into the waters off South Point in order to retrieve his ulua – an illegal maneuver. The fish would have easily put him on the board.
Michael Tokunaga rewarded the act of honesty after the weigh-in.
VIDEO EXTRA:

Roland Tamaru, longtime ulua fisherman, presents a special sculpture to the S. Tokunaga crew on behalf of Hawaii's fishermen in appreciation of all the work they do for the fishing community. Although a life-altering stroke ended Roland's surfcasting days, he still honors the sport through his artwork, and by crafting miscellaneous fishing equipment with the help of his sons in Mililani. He also happens to be the beloved father in law of the founder and editor of Big Island Video News.