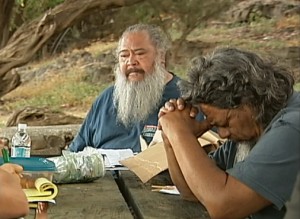 Video by David Corrigan | Voice of Stephanie Salazar
Native Hawaiians met with Ka Ohana O Honuapo executive director Lehua Lopez-Mau on Wednesday at Honuapo Beach Park.
Concerns have been re-ignited amongst these native Hawaiian groups now that new plans for Honuapo Park are moving forward.
The Ka Ohana group is dedicated to protecting the 225 acres of Honuapo Park. A new Wetlands Habitat Restoration Plan is currently in the works.
But Albert Ha'a Jr. – who traces his genealogy back to the royal line of Kamehameha – says the land does not belong to Ka Ohana O Honuapo, and therefore is not theirs to restore. Wednesday was a chance for both sides to sit down.
An emotional Ha'a said he believes there is deeply important iwi buried somewhere on this land.
"If you have a group claiming to be the ohana, then why not talk to the real ohana?" asked Ha'a. "Did anyone show me where Kamehameha I stay? He's on this land, according to my probate, which is a will, signed here in Waiohinu, Ka'u."
Ha'a did not come alone. He was joined by other Hawaiian sovereignty groups and activists going through similar struggles on the Ka'u coast, like Abel Simeona Lui…
Abel and his supporters await a court decision that will rule on whether or not Abel must vacate Kawa.
Abel, who currently plants food and cares for the land at Kawa, blames government mismanagement for recent animal deaths. Abel showed the group pictures taken showing him tending to dead pueo he says were found in the area.