HONOLULU, Hawaii: It looks like the State Attorney General's office agrees with Hawaii County democrats when it comes to their protest of the recent Statewide Reapportionment Commission's decision to count military when redrawing district lines.
The commission meets once a decade after the U.S. Census is taken. This year, the appointed body broke from past practices and made the decision to include military, sentenced felons and non-resident college students. As a result of the decision, it looked the the Big Island's hope of getting another senate seat would be dashed.
Hawaii County politicos objected to the decision, citing state constitutional concerns.
Formally answering the question of the legality of the decision, asked by Ka'u representative Bob Herkes, Deputy Attorney General Charleen Aina wrote that the Hawaii Supreme Court "would likely hold that to the extent they are identifiable, nonresident college students and non-resident military members and their families cannot properly be included in the reapportionment population base the Commission uses to draw the legislative district lines this year."
The conclusion from the deputy attorney general's opinion: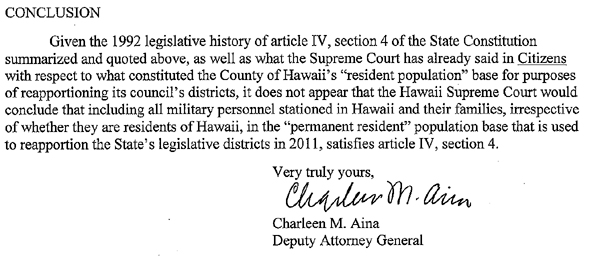 It is not yet known how the state commission will respond to this development. At a meeting in Waimea, state commissioner Dylan Nonaka said the commission was comfortable with the legal and constitutional aspects of their decision.