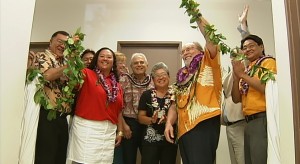 Video by David Corrigan | Voice of Stephanie Salazar
HONOKAA, Hawaii: Governor Neil Abrcrombie was in town on Thursday, along with a number of other local leaders, to celebrate the community kick off of a new initiative in Honokaa.
The Rural Outreach Services Initiative – here at the North Hawaii Education and Research Center – will be bringing a whole list of government services to the surrounding rural area of Honokaa and North Hawaii.
The launch of the outreach initiative was accompanied by fanfare and music. Director of the Hawaii Department of Labor and Industrial Relations (and former State Senator serving the Hamakua area) Dwight Takamine served as the MC for the festivities. A number of representatives were onhand to talk about their agency's projects and initiatives.
According to organizers, in-community services will be held Mondays through Thursdays at NHERC. Mondays will focus on agriculture including Kapulena ag project; Tuesdays on adult education with Kona Community School for Adults; Wednesdays on employment opportunities, job training, home ownership and housing; Thursdays on eldercare, health and wellness, veterans and disability services; and Fridays on drug prevention education, parenting, recovery. No appointment needed.
Agency reps are bringing a wide range of services to the northern Hamakua Coast town, so residents don't have to drive long distances to Hilo or Kona, organizers say.
The State of Hawaii issued the following media release as the event concluded:
The Hawai'i Department of Labor and Industrial Relations (DLIR) today launched a new effort to provide residents of Hawai'i's most rural areas with direct access to government and community resources. The initiative's first site is located in Honoka'a, within the Hamakua Coast, where services will be provided at the North Hawai'i Education & Research Center (NHERC). The Rural Outreach Services initiative is a partnership between federal, state, county governments, and private non-profit agencies.

"We are here to serve all people of Hawai'i," Governor Neil Abercrombie said. "We're making it easier for those who live in remote communities to receive the services they expect by bringing together government agencies, community groups, nonprofits and businesses."

Hamakua residents will receive services from 38 agencies on a rotating basis. The wide range of services include among other issues -job training, health care, housing, and agriculture.

"Rural Outreach Services is an initiative that will turn lives around," said Rep. Mark Nakashima, a member of the initiative's coordinating committee, who also sits on the advisory board for NHERC. "Because of the long distances that people need to travel on the Big Island, many residents have not been getting the services they need, whether it is job-related, housing, or even health care."

The Rural Outreach Services initiative is a public-private partnership of agencies supported by the DLIR Workforce Development Division, University of Hawai'i – Hilo's NHERC, Hamakua Partners in Eldercare, Hawai'i County's Kapulena Lands project, and the Department of Education's East and West Hawai'i Community School for Adults.

"We are creating an opportunity to better serve the rural communities of North Hawai'i, which will be a model for other rural areas across the state," said DLIR Director Dwight Takamine, also a member of the coordinating committee for Rural Outreach Services. "This is a truly community-driven effort to address barriers to services by empowering rural communities."

Services will be provided on a first-come, first-served basis, with no appointments necessary.
During the month of July, one agency will be available at the NHERC on Wednesdays and Thursdays. Agency availability will increase beginning August. For more information and a schedule of upcoming services, workshops and conferences, contact the North Hawai'i Education and Research Center at 775-8890. A calendar of events is posted at: http://goo.gl/fS9T3.

The first workshop on entrepreneurial opportunities will take place at NHERC on July 27, 2011. It is being provided by Hawai'i County's Department of Research & Development and the Small Business Development Center West Hawai'i and will include one-on-one consultations on-site.

The following agencies are participants in the Rural Outreach Services initiative in Honoka'a:

Arc of Hilo
Arc of Kona
Catholic Charities
Center for Agricultural Success
County of Hawai'i—Aging & Disability Resource Center
County of Hawai'i—Coordinated Services for the Elderly
County of Hawai'i—Office of Housing & Community Development
County of Hawai'i—Human Resources
County of Hawai'i—Research & Development
Department of Defense (Hawai'i), Office of Veterans Services
Department of Education, Hilo & Kona Community School for Adults,
Department of Labor & Industrial Relations—Disability Compensation
Division, Hawai'i District Office, Unemployment Insurance Division, Workforce Development Division, Wage Standards Division, Occupational Safety & Health Division, Veteran Employment & Training Service
Department of Human Services, Vocational Rehabilitation Division
Hawai'i Center for Independent Living
Hawai'i Community College, Office of Continuing Education & Training
Hawai'i County Economic Opportunity Council
Hawai'i Island Beacon Community
Hawai'i Disability Rights Center
Hawai'i First Federal Credit Union
Hawai'i Home Ownership Center
Hawai'i Island Adult Care, Inc.
Hawai'i Island Workforce & Economic Development Ohana
Hawai'i Small Business Development Center
Hope Services of Hawai'i
Five Mountains Hawai'i
North Hawai'i Drug Free Coalition
University of Hawai'i at Hilo, North Hawai'i Education & Research Center
Services for Seniors
UH – Hilo, College of Pharmacy
Unites Stated Department of Veterans Affairs
Workforce Solutions