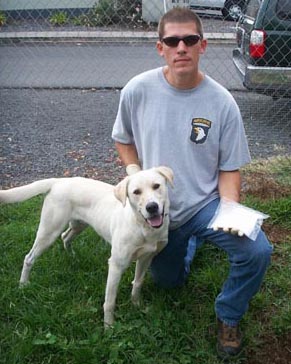 Voice of Stephanie Salazar
KAILUA-KONA, Hawaii: Recently, Big Island Video News covered the story of Magnum, the new scent tracking canine donated to the Hawaii County Police Department.
While we were in Kona filming Magnum enjoying some fresh air, we neglected to focus on his pen-mate, Diesel… you can see him here…
It turns out, Diesel – who is an 8-year-old yellow Labrador retriever who began his career at the Hawaii Police Department in February 2007 – is headed for retirement.
To the right is an earlier photo of Diesel with his teammate, Officer Edwin A. Buyten, who is displaying a bag of methamphetamines that Diesel sniffed out while it was hidden behind the engine and firewall of a meth distributor's vehicle.
Over his career with the Hawaii County police, Diesel was responsible for a number of narcotic recoveries, including some high profile methamphetamine busts in Kona.
Police say Diesel has been responsible for the following recoveries:
• Roughly 8 pounds of methamphetamine

• Roughly 20 pounds of marijuana

• Roughly 2 ounces of heroin

• Roughly 3 pounds of cocaine

• Roughly $250,000 in cash seizures

• Roughly 20 vehicle seizures

Diesel has also traveled throughout the state and assisted with outside investigations at the request of the FBI, the DEA, the Department of Homeland Security, the U.S. Customs Services and the U.S. Secret Service.

The canine has an extremely passive disposition, which allowed him to participate in the D.A.R.E. program, local parades, educational demonstrations at the various Big Island schools and other community events.

Two of his most notable recoveries took place in Kona.

The first was an investigation at the Kona airport at which the Hawai'i Police Department, the FBI and the DEA received information about a large quantity of methamphetamines being transported from the mainland to Kona. Diesel conducted a screen on luggage and provided an alert on a bag. After the execution of a search warrant, investigators located more than 2.5 pounds of methamphetamines with a street value exceeding $150,000 dollars.

The second was when investigators from the Hawai'i Police Department requested the deployment of Diesel on a vehicle being operated by a known methamphetamine distributor. The woman was extremely cooperative with investigators and said numerous times that the officers could search her vehicle. Once deployed, Diesel immediately climbed underneath the vehicle and provided an alert to the firewall area. After the execution of a search warrant, officers located more than 5 ounces of methamphetamines hidden behind the engine and firewall. The drugs had a street value of $15,000 dollars.
The police department says Diesel plans to leave the Kona police station on Friday to live out his days in bliss in the Waimea area.