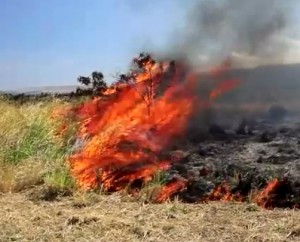 Video by Tim Bryan
No, this isnt lava from the recent volcano eruption creeping towards the sea… its an unrelated brushfire, burning in Ka'u.
The roaring wildfire broke out near Punaluu Beach on Wednesday, closing Highway 11 at the 56 Mile Marker and forcing traffic to reroute through Ninoole Loop Road.
As you can see by this video on the ground taken by Tim Bryan, gusting winds swept the fire into an unmanageable inferno, which eventually jumped the highway and burnt many acres.
Fire crews rushed to contain the blaze, and fought the fire for hours.
No homes were reported threatened.
By nightfall, the highway was still closed, and the distant flames were still visible from the road. In the foreground, the charred earth was still burning.
Officials did re-open the Highway before 11 o'clock.